ABOUT J.E Builders Ltd
Covering Buckinghamshire, Hertfordshire & Berkshire including High Wycombe, Berkhamsted and Hemel Hempstead

J.E Builders Ltd are a family-owned and operated building company with 20 years of experience in the building trade. We complete a range of works in towns and areas throughout Buckinghamshire, Hertfordshire & Berkshire including High Wycombe, Berkhamsted and Hemel Hempstead.
We approach all of our work with an unmatched level of professionalism shown not only through the work we produce but also the way we interact with our clients. We believe we are the right fit for homeowners looking to renovate their homes who need a building company that will work closely with them to achieve their ideal home.
Our Services
We provide the full range of building services including:
New Build Construction
Bricklaying
No matter the building services you are looking for, the versatile builders at J.E Builders Ltd can help.
Supporters of Band of Builders
J.E Builders Ltd give back to the community with our membership to the charitable organisation Band of Builders. This organisation seeks to unite tradespeople and create a network of those willing to support and help tradespeople in need. To find out more information about the work that members of Band of Builders do, visit the Band of Builders website.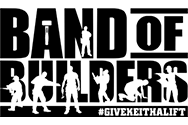 Get in touch with J.E Builders Ltd today
Get started on your home improvement project by talking to one of our helpful and friendly team members on 01494 815334 or select the button below to be directed to our contact page.